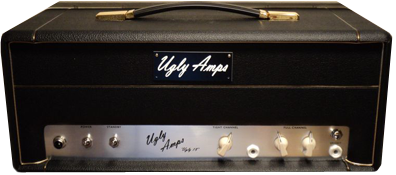 The Ugly 18 head is a 2-channel, 18 watt, dual 12AX7/EL84 tube amplifier.
It's circuit has evolved over time through the requests of some of my better clients and can be custom voiced to meet your own tastes.
Normal channel has a fat clean tone, but breaks up
in more of a british way, with no flubby bottom end.
This channel also has a simple tone control.
The bright channel has been renamed to the Tight channel
with just a single knob to control it, a midrange bark that breaks up
evenly with even tighter lows and more gain in the mids.
These two channels are meant to be jumped or bridged.
This Amp really opens up with all the knobs available!
Check out this quick video demo of the 18:

Specifications:
18-20 watts output
2 x 12AX7 Preamp Tubes and 2 x EL84 Output Tubes
Normal Channel -Controls for Volume, Tone
Tight Channel – Control for Volume only
Channels in phase for bridged mode
4/8 Ohm Speaker Outputs
Compact Enclosure fits in overhead compartment
Available in several colors
Please contact us if you need info on speaker cabinets.
Price $1300.00
65.00 shipping in lower 48 states